Shibori
Shibori is a traditional Japanese fabric art that utilizes a variety of resist and stitch techniques to create intricate dye patterns and rich textures. An approximate translation of the term 'shibori' is often given as 'shaped resist dyeing,' demonstrating the fundamental concept of the art form.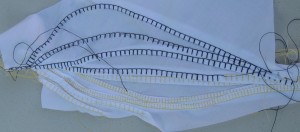 Shibori Stitching
Because of the complexity of the practice, every artist's creations are unique. Shibori stitching is a method that that shows the hand of the artist. The work is slow and the artist has time to see the line she is stitching and its relationship to the line before it. For that reason I enjoy stitch resist, because the pace of stitching helps simplify and unify my designs.
I study stitch work of all kinds for new design ideas. I have practiced many of the hundreds of traditional Japanese shibori patterns. Each of my shibori scarves is expressly planned to vary the layout and design elements like stitch lines, color, and finishes.
Texture

Texture as a design element is a part of shibori practice that adds a third dimension to fabric art.
Texture is the beautiful memory of the stitch in the fabric produced as part of the stitch resist process. In my silk shibori scarves, I try to place the texture to shape a flattering frame around the face and shoulders similar to a tailored collar and lapel.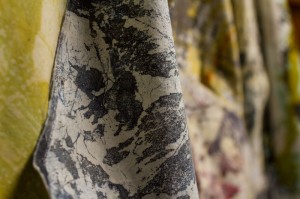 Design
When designing a piece of art, the object that you plan to enhance makes a difference in the design. In European painting, the outer shape of the painting is considered a supporting characteristic that should be coherent with the subject and composition.  The wide rectangle is considered serene and landscape-like. In Japanese Kimono, the rectangle often allows for the interplay between motifs moving down in a dynamic asymmetry.
I enjoy planning the surface of my scarves with these thoughts in mind.  Turning the motifs along the fold lines produces a beautiful result. I design my shibori scarves so that each repeat is the same stitch pattern with different value and color breaks, creating a design with dynamic changes to intrigue the eye.
 Fabric
For my scarves, I use silk haboti fabric. It has a matte finish or a high gloss depending on how I process it. It dyes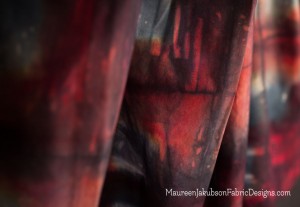 through many layers when stitched but looks equally well stitched in one layer, and it takes texture extremely well.
Silk haboti has a lovely light drape, but some of my designs require more weight and so have beaded hems. Beading the scarf hems is not only a beautiful look, it also adds weight to finished fabric. Most of my beaded hems use Japanese glass beads in a variety of finishes and colors. Some of have terra-cotta beads, and a few special designs are beaded with mother-of-pearl.