Maureen Jakubson
Maureen Jakubson is a Mixed Media Artist, Fabric Designer and Art Cloth Maker. Born in Maine, she moved to Ithaca in 1983 to begin practice as a pediatric therapist and Fiber Artist. Engaged all her life in learning fiber work from family and neighbors, and as a part of her training, Maureen incorporates the design and color work from years of weaving, quilting, lace making, knitting and crochet in her creations. In recent years, she has concentrated on developing graphic impact with Shibori Stitch Resist dyeing. Finding the hand of the maker, mark of the stitch and relationship to the history of hand made cloth, has inspired Maureen's original fabric creations. She produces the fabrics in all her work using traditional Shibori techniques reinterpreted for contemporary surface design, as well as, a variety of fabric printing methods to produce mixed media fiber art. She has developed innovative, large scale stitch resist work based on African and Japanese Shibori styles traditionally dyed in Indigo. She hand dyes, prints and dye paints on cottons, linens, wood and paper. Recently Maureen has employed Shibori to repurpose clothing.
Maureen has studied with Nancy Crow, Jane Dunnewold , Emily Richardson, Ann Johnson, Sue Cavanaugh, Jan Myers-Newberry, Elin Noble, David Hornung, Kaffe Fassett, Judy Robertson, and Elizabeth Busch at Quilting By the Lake, Timber Barn and Dunnewold Studios. She is currently completing the Art Cloth Mastery Program at Dunnewold Studios in San Antonio Texas. Her paintings and fiber work have been exhibited at Community School of Music and Art open and faculty shows, Tompkins County Library, Tompkins County Quilt Guild and Genesse Valley Guild shows, the Lowell Quilt Festival, and Quilting by the Lake. She has been successfully marketing her work both locally and online. She sells finished art pieces, fabrics, garments and linens. In 2014, she started a fabric design business: Maureen Jakubson Fabric Designs. Her work can be found through Etsy.com, Spoonflower.com, and her website: http://www.MaureenJakubsonFabricDesigns.com
Maureen is a member of Studio Art Quilt Associates (SAQA), the Quilt Divas and Finger Lakes Fiber Artists formed in 2015 in association with the Schweinfurt Art Center. She has been teaching Shibori Stitch Resist and other Hand Dyeing techniques at the Community School of Music and Art in Ithaca since 2015. Her work was juried into Plowshares Crafts Fair sponsored by the Syracuse Peace Council in 2016 and 2017 and Ithaca Artist Market in 2017. Maureen curated the show "Blocks, Strips, Strings, and Half Squares." funded by Community Arts Partnership in 2008 displaying more than 40 quilts from 17 New York artists, and put together a lecture and slide show of the quilts as well as a small color catalog of the show.
Current Shows include the Finger Lakes Fiber Artist Show at the May Memorial Unitarian Church in Syracuse and Quilt Diva Show; "Threads of Change" in Ithaca New York.
Fabric Designs
I hand dye, marble, paint, stamp and batik fabrics, as well as screen print, discharge and use a variety of resist techniques. I have been spending my time lately with Shibori work including clamp and pole wrapping methods, but decided in the past few years to concentrate on Stitch Resist Shibori. I love the strong graphic quality, design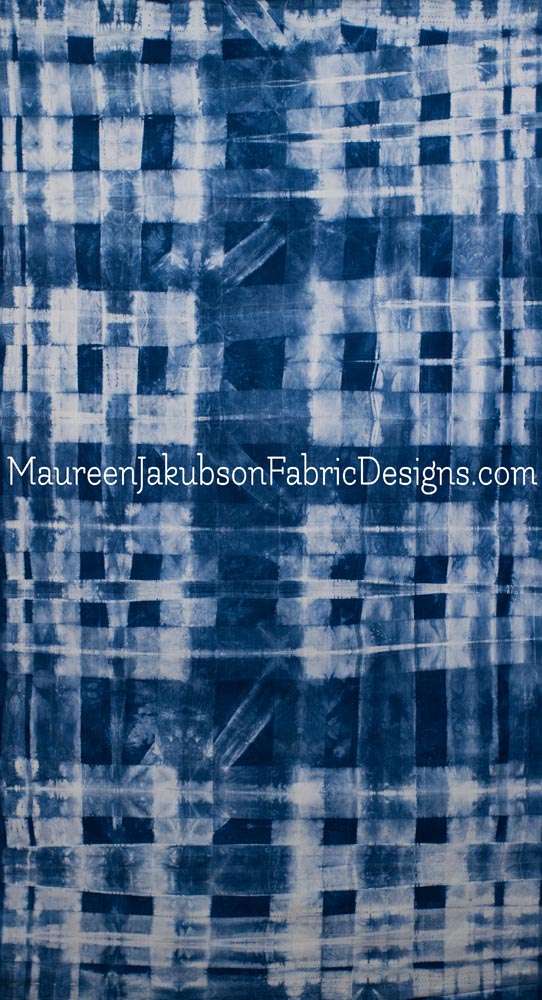 possibilities and color work when using Stitch Resist.
Opening a scarf, whole cloth piece or yardage to see the design, workmanship, and color is the best moment. It is very satisfying to hang each batch where I can see them as I work to decide what I will take into the next design.
I have been enjoying developing machine Stitch Resist techniques and working out dyeing methods to get good contrast and color.
My preference for hand work extends to finishing as well. I hand finish and embroider art pieces, wearables and Home Dec.