Maureen Jakubson
I grew up in Central Maine and attended Swarthmore College, where I met my husband George. We moved to Ithaca after graduating from the University of Madison, Wisconsin, in the early 1980's. In the years since, I have pursued a career as a therapist, raised a family, and enjoyed the beauty and many opportunities of the Finger Lakes area.
More recently, I was accepted in the Art Cloth Mastery Program in San Antonio Texas with Jane Dunnewold.  I was also  joined The Quilt Divas; a Fiber Artist and Artist Group founded in 2001 in the Finger Lakes Region.
I began to sell by work professionally in 2014. I sell Quilters Cottons, Hand Dyed Shibori Fabrics, Shirts and Jackets, Socks and Scarves and Linens. I work in Cotton, Rayons and Silks and have added some Bamboo and Wool items.  I have a Spoonflower online shop with my designs for sale. In 2015, I negotiated my first royalty contract for a Fabric Design and began teaching Shibori Stitch Resist Dyeing at the Community School of Music and Art and Quilters Corner both in Ithaca New York. This was my first year as an Artist Vendor at Plow Shares In Syracuse New York , an experience I hope to repeat.
I had been a weaver and sewer for many years and had the opportunity to study weaving at the University of Wisconsin while working on my therapy credentials. I made a quick transition to quilter When I moved to New York and began to make both traditional and art quilts. I've had the good fortune to be able to study frequently with exceptional artists including Nancy Crow, Jane Sassaman, Emily Richardson, Elizabeth Busch, Kaffe Fassett, Pat Pauly, Rosalie Dace, Priscilla Kibbee, David Hornung and Judi Blaydon. I learned surface design, dyeing and fabric production  from Elin Noble, Jane Dunnewold, Ann Johnson, Sue Cavanaugh, Judy Robertson, and Jan Myers-Newbury.
In 2008, I was invited to curate an art quilt show funded by the Community Arts Partnership to be shown at the Tompkins County Public Library. Inspired the Gee's Bend quilts and their abstract art qualities, we named the show "Blocks, Strips, Strings, and Half Squares." We displayed more than 40 quilts from 17 New York artists, and put together a lecture and slide show of the quilts as well as a small color catalog of the show.
My paintings and quilts have been shown at Community School of Music and Art in open and Faculty shows, Tompkins County Library, Tompkins County Quilters Guild and Cortland Quilters shows, the Lowell Quilt Festival, and Quilting by the Lake. I have also participated in a Group Trunk Show for the Schweinfurth Art the first Iron Quilter Competition at Tompkins Count y Quilters Guild Quilt Show, and the Genesse Valley Quilt Guild show. The most recent Tompkins County Guild show quilt on which I worked was displayed at the AQS 2013 show in Lancaster Pennsylvania.
Fabric Designs
I hand dye, marble, paint, stamp and batik fabrics, as well as screen print, discharge and use a variety of resist techniques. I have been spending my time lately with Shibori work including clamp and pole wrapping methods, but decided in the past few years to concentrate on Stitch Resist Shibori. I love the strong graphic quality, design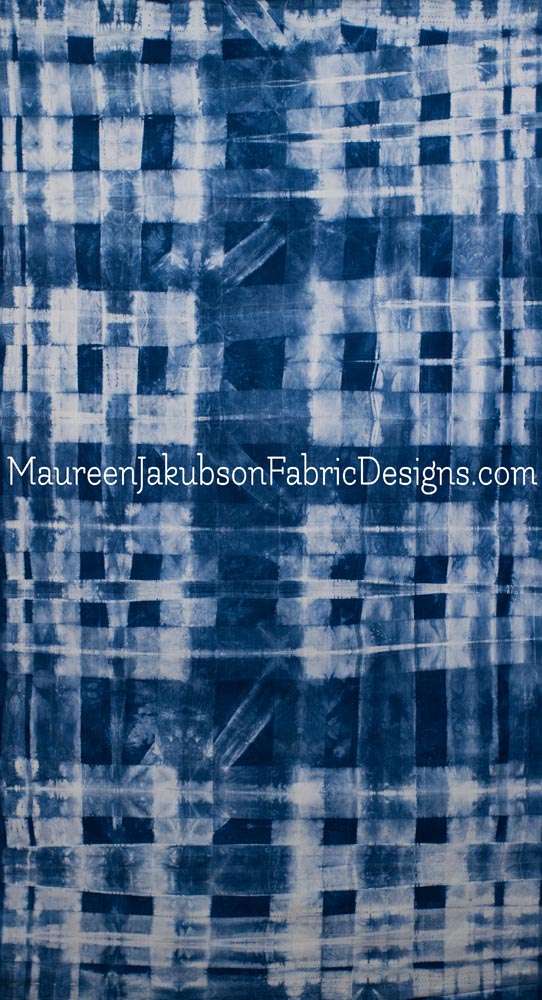 possibilities and color work when using Stitch Resist.
Opening a scarf, whole cloth piece or yardage to see the design, workmanship, and color is the best moment. It is very satisfying to hang each batch where I can see them as I work to decide what I will take into the next design.
I have been enjoying developing machine Stitch Resist techniques and working out dyeing methods to get good contrast and color.
My preference for hand work extends to finishing as well. I hand finish and embroider art pieces, wearables and Home Dec.